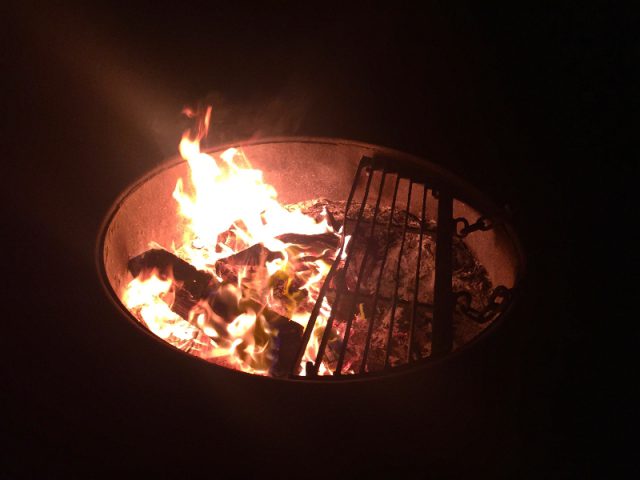 To me, the humble S'more is the heartbeat of any camping trip. Without it, the weekend would be an empty shell. Luckily, we had plenty of 'em around Saturday night's campfire at Leo Carrillo State Beach. We had milk chocolate s'mores and dark chocolate s'mores and strawberry s'mores, all to top off a fabulous dinner supplied by our own Alex Collett.
But the weekend wasn't just about the food. No, it was about camaraderie, friendship, sunsets and beachcombing. One thing I love about diving is how it brings together people of all demographics. Lawyers and dancers, students and forest rangers, musicians and therapists, veterinarians and computer geeks all sitting around a blazing fire pit, laughing and swapping tales.
Saturday and Sunday found most of us on the beach searching for sea glass, seashells, agates and other interesting rocks. The perfect weather lent itself to beachcombing: blue skies, cooling breeze and small surf. Last winter's storms eroded a lot of the beach, leaving broad stretches of water worn stones, a hunter's paradise.
Waves were small enough for easy surf entries, but only Matt Bokach brought dive gear. Dying to dive, he searched for a buddy, even approaching strangers, moving from campsite to campsite in search of a tank…Alas, he had to settle for hanging out with us, the landlocked.
For the first time is several years, Thomas and Greg set up their "taj mahal," complete with full bar and colored lanterns…so civilized! 11 year olds Ella and Josephine took charge of organizing the S'more production line and competed with Chris for the most glorious agates on the beach. Sharon & Nixie focused on sea glass when not shepherding Grace and Penny (Arf,) and Yuki colored his hair especially for the event.
It was fun having Judy Carter back after an absence of many years, and meeting her girlfriend Anna. Others just came for the day and dinner, Craig & Neil, whose new home is just up the road and Jeff Thorin, still jet lagged from Europe.
And so ends yet another fabulous weekend at Leo Carrillo. This year marks the Barnacle Busters' 20th trip to this local state park and we look forward to many many more!!