---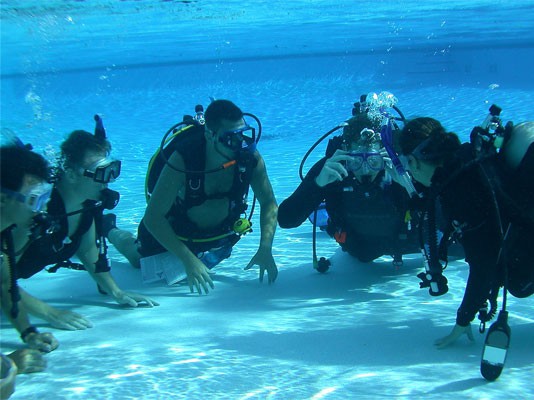 Our 2017 Class schedule begins June 24! We have over 22 years experience training Scuba divers in the LGBT community. Beginners Scuba courses generally consist of three class and pool sessions, followed by two days of open water diving, one off a local beach and the second in the underwater park on Catalina Island. Tuition of $395 includes all sessions, rental equipment, boat trip to Catalina, Certification fees. NO PURCHASES REQUIRED. A $50 deposit will hold your spot in class. The balance is due first class session.
We supply all the equipment and as much fun as you can possibly stand. Classes are conducted in Los Angeles, but you can do your classwork online, then come to LA for the in-water sessions.
Everyone and anyone is welcome to join our classes and dive trips. For questions or sign-ups call 310 493-9296 or email rainbowdive@sbcglobal.net. See the schedule below for class dates or visit the club calendar for upcoming dives.
2018 Class Schedule
---
For questions or sign-ups call 310 493-9296 or email rainbowdive@sbcglobal.net
Sat

Jul 07

10AM - 3PM

Class & Pool 1

Sun

Jul 08

10AM - 3PM

Class & Pool 2

Sat

Jul

21

10AM - 3PM

Class & Pool 3

Sun

Jul 22

08AM

-12PM

Beach Dive, Redondo Beach

Sat

Jul 28

07AM

-5PM

Boat Dives, Anacapa Island

Sat

Aug 04

10AM - 3PM

Class & Pool 1

Sun

Aug 05

10AM - 3PM

Class & Pool 2

Sat

Aug 11

10AM - 3PM

Class & Pool 3

Sun

Aug 12

08AM - 12PM

Beach Dive, Redondo Beach

Sat

Aug 18

07AM -

6PM

Catalina Island Dives (Cee Ray Boat)

Sun

Aug 19

10AM - 3PM

Class & Pool 1

Sat

Aug 25

10AM - 3PM

Class & Pool 2

Sun

Aug 26

10AM - 3PM

Class & Pool 3

Sat

Sep 01

08AM - 12PM

Beach dive, Redondo Beach

Sun

Sep 02

08AM -5PM

Catalina island Dives (Cee Ray Boat)

Sat

Oct

06

10AM - 3PM

Class & Pool 1

Sun

Oct

07

10AM - 3PM

Class & Pool 2

Sat

Oct

20

10AM - 3PM

Class & Pool 3

Sun

Oct

21

08AM - 12PM

Beach Dive, Redondo Beach

Sat

Oct

27

07AM - 12PM

Catalina Island Dives (Cee Ray Boat)

Sat

Oct

28

10AM - 3PM

Class & Pool 1

Sat

Nov 10

10AM - 3PM

Class & Pool 2

Sun

Nov 11

10AM - 3PM

Class & Pool 3

Mon

Nov 12

08AM - 12PM

Catalina Island Dives, Casino Point

Sat

Nov 17

08AM - 12PM

Beach Dive, Redondo

Beach