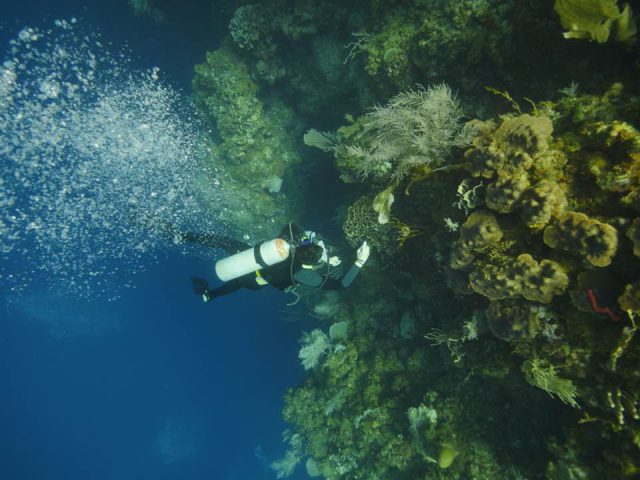 CoCo View Vernacular
A strike in baseball is bad; but to a bowler, it's good. Similarly, having an old, rusty clunker in your front yard is frowned upon, but at CoCo View having a wreck in your "front yard" is amazing Picture a landscape of aqua clear blue water, hammocks swaying in the breeze, parrots cawing in the distance, and a submerged world with a sunken wreck, DC-3 plane, and oodles of marine life, and you have the front yard we got to play in for a week.
Our adventure started off not with a bang, but with a frustrating whimper. After more than 2 hours in line waiting to check our luggage, and then racing over to Tom Bradly Int'l terminal to wait in TSA security, we were finally off to our gate. A quick stop at a bar for a bon voyage celebratory drink, and then it was the big blue skies to Roatan.
CoCo View Resort (CCV) is located on Roatan Island, just north of Honduras in the Caribbean Sea.  It's situated on the south shore of Roatan, perched on the edge of the world's second largest coral reef. As CCV's website boasts, it's "The most returned-to dive resort in the world." They offer diving and snorkeling to your heart's content with shore diving available whenever you desire. To paraphrase one reviewer, "It's not a resort to go and party or tan, but a great place to go if you're a diver.  It caters to the dive community." Located just a few fin kicks away in their front yard is the 140' wreck of the Prince Albert, Newman's Wall, and Coco View Wall among other attractions. CCV is isolated and very much like a liveaboard on land.
For me, aside from the incredible diving, the trip represented a break from the norm. As Belle describes her poor provincial town, I didn't see the baker with his tray like always; the same ol' bread and rolls to sell. Rather, the days melted into one another. The day of the week was insignificant. We'd wake, eat breakfast, head out on the dive boat, return from diving to have lunch, head out on the dive boat for a couple more afternoon dives, return from the dive boat to rinse our gear and get ready for dinner, happy hour with Willie at the bar pouring drinks, eat dinner, and then repeat the following day. I didn't think I'd ever say it, but it was almost too much diving. Almost. With the potential of four dives daily from the dive boat, unlimited shore dives and night dives, as mentioned earlier, it is the place to go if you're a diver.
In addition to eat, dive, eat, dive, drink, eat, sleep, repeat, we also enjoyed an informative and fascinating lecture on sand. Really! Sand! We got to dance with a local troupe who performed some native dances. Everyone benefited from Patty's lecture on buoyancy. As we told Patty, if she were heading a cult, we'd drink the cool aid. She is entertaining, engaging, and truly knowledgeable and experienced. And, I'd be remiss if I didn't also comment on experiencing beautiful and vibrant tropical sunsets surrounded by friends and fellow divers. Oh, and a drink from Willie. It was tough returning to reality and the norm after a week at CCV.
If you get a chance to make it to CCV, be sure you check out Mary's Place.  Take your time to see and enjoy all the "Tchotchkes" tucked away on the shelves.  You'll be glad you did.