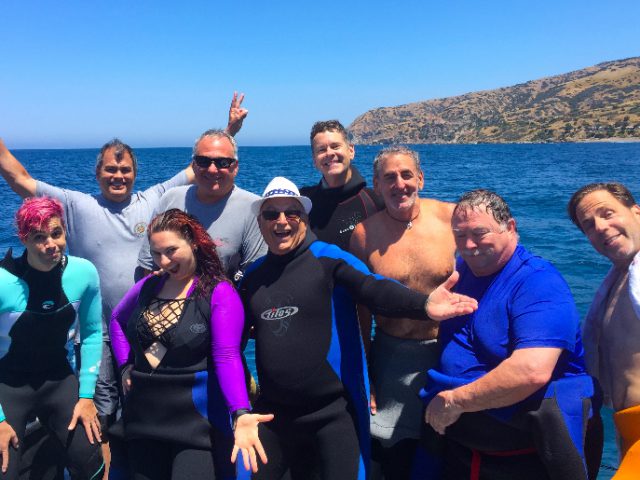 The fireworks started the moment we stepped aboard: eggs, bacon, sausage, pancakes, hot coffee and friendly greetings. This was the Barnacle Busters' fifth Independence Day dive trip to Catalina aboard the Cee Ray. Ten club members set up their gear and settled in for the two hour trip to the island. In addition to our group, the guest list included friends we only get to see once a year on the 4th. Scuba diving creates eclectic tribes.
We wound up with a buddy team of six, including a couple of new divers and one lapsed, so the first site, Bird Rock was a "settle-in" dive which went well: rich healthy kelp with all the usual SoCal marine life and one giant black sea bass sighted.
Next was Yellowtail Point. I love the rocky reef structures there, stratified and dramatic. We spotted no fewer than a dozen spiny lobsters in one crevice, several Spanish Shawls and numerous large, healthy abalone, thanks to the moratorium. Welcome back, we've missed you.
The final dive, Lulu Reef, was the best. While most of the other divers headed for the rocky reef, we cruised the sand flats, searching for bat rays. And…we weren't disappointed, spotting the first "dust storm" moments into the dive. Carefully edging closer, we found a good sized ray foraging in the silt. He looked at us and leisurely flew away. Then they were everywhere, probably 10 or 12, some sleeping, some burrowing, some swimming and all seemingly posing for us. A few round rays were also spotted. We loved this dive.
Some of us napped on the way home, others enjoyed a cocktail and socialized, and we were all happy as could be! Back in Long Beach, we anchored in the harbor, opened another cider and waited for dinner and fireworks.
Tri-tip and salmon were on the menu with plenty of side dishes, created by the always fabulous Kim Lancaster. As usual, fireworks over the Queen Mary were spectacular, a great way to finish off perfect day.
Always thinking ahead, we had parked our RV in the Cee Ray parking lot to avoid traffic on the 710. So nice to snuggle in your own bed after a full day of diving and celebration.
Many thanks to Mike & Kim Lancaster for providing a memorable 4th of July, as always. Our reservations have already been made for next year!! Join us!