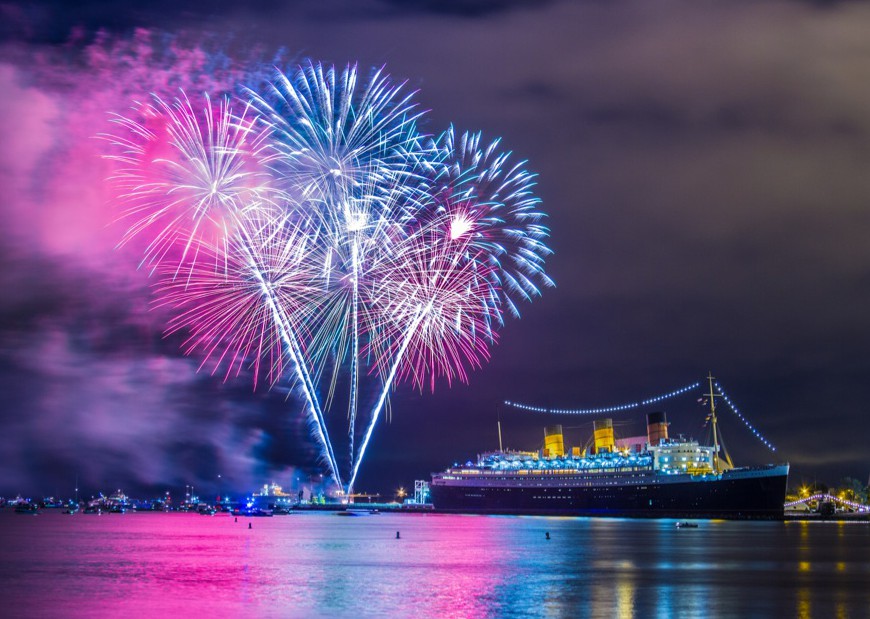 Divers are able to load the night before starting at 8PM and we'll leave the dock promptly at 7AM the morning of the 4th.The day includes 3 dives, 3 full meals and snacks all day long. After the 3rd dive we will go anchor in front of the Queen Mary and start with appetizers, then a fabulous dinner, dessert and of course fireworks.
To check the latest availability, go to the Cee Ray's website.
We hope to see you diving with us for this wonderful day of friendship and celebration.
The Cee Ray dive boat leaves from San Pedro. Hot meals are served on board. We do two or three dives and return in the late afternoon.
From the CeeRay's Website:
In conjunction with owners of the Cee Ray Dive Boat, Capt Arnold & Kay Lancaster. Capt Arnold & Kay Lancaster have been the owners of the Cee Ray for approximately 21 years. Capt Arnold has been a Captain for over 40 years and has a magnitude of experience. As owners of Southern California Dive Adventures we work directly with Capt Arnold & Kay to bring you the best diving experience available in Southern California. Our family ran dive boat will meet all of your diving expectations, with our experienced crew. We invite you to visit the Cee Ray Calendar on our schedule page to view all trips available, as well as dates available for charter. If you are interested in a specific date please email us at ceeraydiveboat@gmail.com

As owners of Southern California Dive Adventures, we are Michael & Kim Lancaster. Our goal is to make your diving experience in Southern California an Adventure that you'll never forget. Enjoyable, relaxed and worry free.

We are both US Coast Guard Licensed Captains and we are both Handicapped Dive Buddies. Michael is a Naui Instructor, CPR First Aid Instructor, 02 Instructor and Nitrox Instructor with over 40 years of diving experience and Kim is a Naui Dive Master. As well, Kim is also a graduate of the The International Culinary School at the Art Institute of Orange County where she studied Culinary Management. We have professionally planned menus. If you have special dietary restrictions, please just call us and let us know!

If you've never been diving in the waters along the Southern California Coast it could be one of the most rewarding experiences you'll ever have. We'd love to help you get acquainted to the area and show you some great dive spots. Once you've experienced diving in the kelp you'll find it one of the most beautiful you've ever had. It's like diving in an underwater forest and along with it is an abundance of friendly sea creatures.

If you're not a certified diver and would like to be, we can make that dream a reality. Private lessons are available and we work around your schedule.

We often have open boat dates on the dive boat Cee Ray out of Long Beach harbor, Berth 55 located at 555 Pico Ave., Long Beach, California.