Casino Point Dive
Event Navigation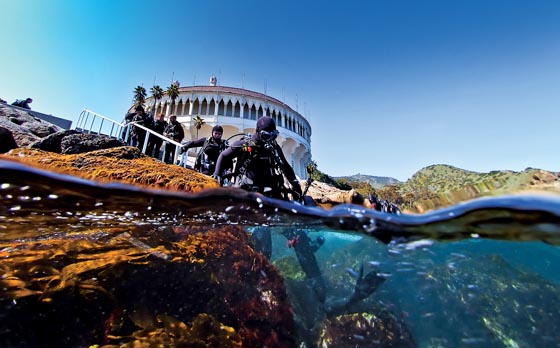 Join the club for a dive at Casino Point on Catalina Island. This is a fantastic destination for beginners and advanced divers alike. We'll take the 6AM boat over and return on the 3:55PM boat. Email Buck for details.
The City of Avalon designed the park to be as diver friendly as possible. The location is a short distance from the ferry terminal and is easily accessible. On-site lockers and restrooms are available to store gear and there's an air fill station for tanks. Convenient stairs make entries and exits from the water as easy as possible.
A short kick out to one of two buoys and you're ready to dive. Large kelp create beautiful forests that team with life. Garibaldi are common along with Bat Rays, Kelp Fish, Horn Sharks, Octopus, Kelp Bass, Spiny Lobster, Treefish, and Sea Cucumbers. If you are a camera buff, this is the place for you. Visibility ranges from 15 feet to about 100 feet depending on the time of year.
You'll find several small wrecks within easy swimming distance of the stairs and lots of other points of interest throughout the Underwater Park.